Welcome to my travel blog site called Malaysia Asia. I am an avid traveller and enjoy exploring new places for all sorts of positive values.
From photographing to learning about the place, you can find me sharing my travel experiences with my readers and social media.
You should also know that Malaysia Asia is not an old school travel blog but more of a travel site with information about Malaysia, Asia, and the world.
Who is David Hogan Jr from Malaysia Asia?
Posing with one of the local cultural entertainers in Lombok, Indonesia
I have been living in the lovely city of Petaling Jaya in the state of Selangor in Malaysia for almost all of my life.
I would easily consider myself a city person with city ethics but with a passion for the outdoors, adventure, nature, and wildlife.
I am into bird watching, scuba diving, trekking, food, and cultures for my activities. Generally, I am an overall person, meaning I can adapt to any kind of travel.
I come from a film background over the last 20 years, and now I focus mainly on travelling, social media marketing and management, and Malaysia Asia.
On the lighter side - Life is good if you ask me as it is always full of unexpected situations when you choose to live this kind of life. How we look and decipher them is another ball game altogether.
If you should know, I started travelling the minute I finished school back in 1987. A 26 hour Bangkok trip by train opened up my eyes, and I have never stopped since.
I had experienced working and living in Tokyo, Japan, at the ripe age of 19 years old and partied at the Northern Mariana Islands of Saipan and Guam (in the Pacific Ocean) when I was 20 years old.
Where Have I Been?
The early years took me to various places worldwide, starting with Australia's Brisbane and Gold Coast and all the way to Perth in the '90s. From there on, I just kept going.
I must have visited the United Kingdom six times and Los Angeles in the United States about five times in just the nineties.
A month-long trip to Northern Europe to Finland, Sweden and Amsterdam
taught me about life in the colder countries as I had never experienced this coming from a tropical country.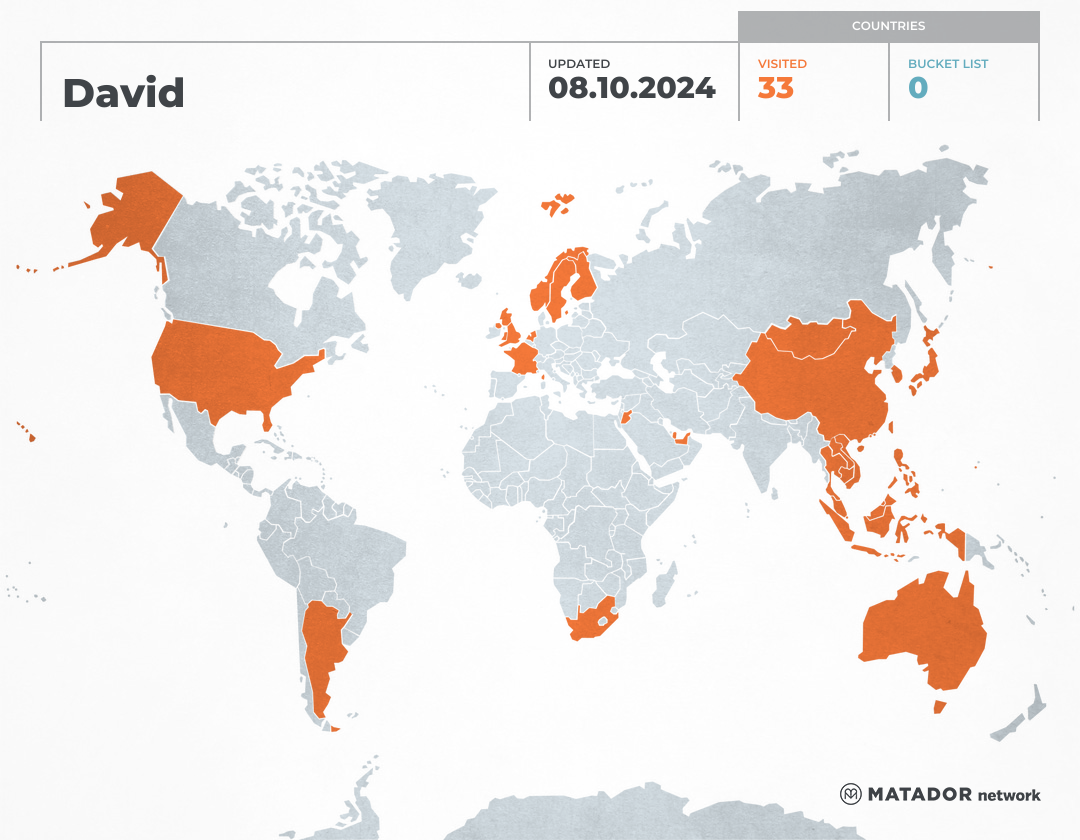 Places that I have visited
One of the best places I have visited in all my travels has got to be South Africa's Cape Town
and going right down to the Cape Of Good Hope.
From there, I flew over to Buenos Aires
,
Argentina, to experience the South American culture and visiting Evita Peron's Tombstone, to name a few of the activities I did there.
Of lately, I have been focusing on local travels and around the South East Asia region and here is where you see most of my current work on Malaysia.
When possible, I indulge in Scuba Diving and Bird Watching as a personal hobby, especially when I travel for work and have that extra time.
Update 2020: I have since retired from scuba diving and much of my travelling since the Covid19 hit the world. Now my main focus is purely on bird watching and general travel, food, lifestyle and gadgets.
What Have I Been Doing Since 2019?
One of my latest projects in early 2019 is creating and managing a dedicated birding website called

Bird Watching Asia

, and this is part of my passion and hobby.
I aim to develop this niche website about birds, bird watching and birding around Malaysia and Southeast Asia. Hopefully, expand to greater Asia and also around the world.
Currently, Bird Watching Asia's focus is centred around Malaysia, where I highlight birding destinations, tours, and other events related to the topic.
Malaysia Asia on Facebook
Malaysia Asia Social Media
I am pretty much active on Social Media; therefore, you can reach me on most of the world's popular social media platforms. My handle would also be @MalaysiaAsia on all of them or David Hogan Jr.
My company (MyAsia Services) focuses on many Social Media Management, Marketing and Campaigning for the travel and tourism industry.
I work closely with Tourism Boards, Hotels & Resorts and even Travel Companies by assisting them in getting more out of Social Media platforms and Search Engine Optimization or SEO for tourism. Contact me if you need to learn more about this.
Conclusion
In January of 2019, I officially announced that I have semi-retired from travelling and have opened a brick and mortar business in Malaysia with my wife.
I still do specialized jobs for tourism promotions and no longer travel weekly. After 30 years of travelling, I realized that at some point, I needed to settle down.
So with this, I hope you enjoy reading my travel blog, and if you need to ask me anything, please do email me here - juniorhogan [at] Gmail [dot] com or simply use the
Contact Me form
.